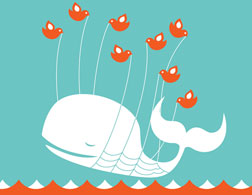 Twitter went down last week, and the world got very quiet. People didn't know what do with themselves; they wanted to tweet the news that Twitter was down, but that was out of the question. Entire overheard conversations went unremarked upon, and mini-reviews of recent episodes of True Blood withered on the vine. I saw a funny Onion video that I was sure my followers would have appreciated and an outrageous Rush Limbaugh quote that demanded my impassioned response, but what could I do? Twitter was down for just a few hours—the service's first major outage during its new era of ubiquity—and it felt strange. It's not normal for an entire medium of communication to go offline; sure, sometimes Gmail is balky and your office phones won't respond, but for everyone else, e-mail and the phones and the Web still work. When Twitter goes down, it's down for everyone, everywhere.
Twitter is run by a single company in a single office building in San Francisco. When you send out a message, it flies about Twitter's servers and then alights in all your Twitter pals' cell phones and Tweetdecks. The system is fast and technologically simple, which helps explain its exponential growth.
But for Twitter, centralization is also a curse. In its early days, the site was known for its regular brokenness—its error-page logo, the "fail whale," became a cultural shorthand for suckiness. Twitter went down so often because the idea behind Twitter—sending out short status updates to the world—became too popular for one company to handle.
This isn't unusual with new technology. In its early days, the Web itself doubled in size every few months. But the Web didn't buckle from overuse. That's because it was distributed—the Web is just a protocol, a set of common rules that connect lots of different servers managed by lots of different companies around the world. Twitter's frequent failures thus raise a question: Shouldn't microblogging be distributed, too? How can a single company manage everyone's updates—shouldn't it be more like e-mail: managed by scores of different providers?
Dave Winer, the pioneering programmer and blogger who runs Scripting.com, has been arguing for months that Twitter is untenable in its current form. Winer likes Twitter—or, at least, he likes the idea of Twitter. Short status updates could well succeed e-mail as the dominant mode of wired communication. But having one company manage the entire enterprise is technically fragile, he argues. Twitter went down last week due to a distributed denial-of-service attack aimed at a single Twitter user—millions of zombie computers had been directed to cripple the user's social-networking pages (apparently as part of ongoing cyberwarfare between Russian and Georgian hackers). The rest of us were collateral damage—Twitter went down for you because of a beef between people on the other side of the world. Does this make sense? Winer doesn't think so. If Twitter worked more like e-mail or the Web—a system managed by different entities that were connected by common Web protocols—a hit like last week's wouldn't be crippling. A denial-of-service attack would have brought down some people's status updates, but Twitter would still work for most of the world.
READ MORE