Top-ranked Dinara Safina, two-time champion Serena Williams and five-time titlist Venus Williams were quarterfinal winners Tuesday at Wimbledon. Fourth-seeded Russian Elena Dementieva also won on Tuesday, as the top-four seeds all made it into the semifinals here.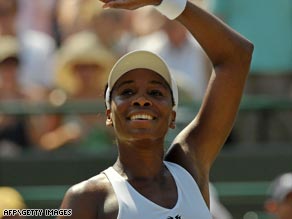 This marks the first time since 2006 that all four top-seeded women reached the semifinals at a Grand Slam event.
Thursday's semis at the All England Club, which will both pit an American against a Russian, will have Safina facing the third-seeded Venus and a second-seeded Serena taking on Dementieva. Serena and Venus are former world No. 1s, which means three of the four semifinalists have held the top ranking.
Venus has won the last two titles here, including a victory over her younger sister in last year's finale.
The French Open and Australian Open runner-up Safina was tested by rising 19-year-old German Sabine Lisicki on a hot day at the AEC, as the big Russian prevailed 6-7 (5-7), 6-4, 6-1 on Centre Court.
Temperatures topped 90 degrees on Tuesday.
Lisicki broke serve early for a 2-1 lead and served for the opening set, but Safina won the first three points of that 10th game and broke to tie it. The set went to a tiebreak and Lisicki won four straight points to grab a 4-1 edge.
A double-fault by Safina gave Lisicki a 6-3 advantage, but the Russian blasted a forehand winner and Lisicki missed an easy forehand at the net that would have given her the set. With a chance to get back into the tiebreak on serve, Safina committed her seventh double-fault to drop the first set and slammed her racquet in disgust.
The second set remained on serve until Safina broke for a 4-3 edge. She nearly gave the break back serving in the 10th game, but Lisicki slipped while setting up for a backhand on break point and the mishit gave Safina another chance. The Russian managed to hold serve and force a decisive third set.
Unfortunately for Lisicki, the German simply ran out of gas in the final set, as Safina cruised in the last seven games by breaking Lisicki's serve four times in as many tries. The first three games of the set all resulted in breaks of serve, but Safina would assume control by holding serve and then breaking for a comfortable 4-1 advantage.
The big-serving Lisicki then called for a trainer, as she had her legs iced while laying face-down on the court.
Safina then held for a 5-1 cushion despite misfiring for three straight double faults at one point, and she broke her German counterpart in the next game by converting on her first match point when Lisicki missed the court with one final errant backhand.
The 23-year-old Safina moved on in 2 hours, 28 minutes despite piling up a whopping 15 double faults. She did, however, tally six breaks, compared to only two for Lisicki, who wound up out-acing Safina 12-0.
"I was Santa Claus on the court, serving so many double faults," Safina said. "I was tough mentally, that was the key today."
Safina, who does not like to play on grass, will now perform in her first- ever Wimbledon semifinal. She's been the runner-up at three of the last five Grand Slam events. Safina lost to fellow Russian Svetlana Kuznetsova in the French Open final four weeks ago and succumbed to Serena in the Aussie Open final back in January.
The reigning Aussie Open and U.S. Open champion Serena blew past eighth-seeded Belarusian Victoria Azarenka 6-2, 6-3 on Centre Court. The 27-year-old Serena reached her sixth Wimbledon semifinal by dousing Azarenka in 1 hour, 13 minutes.
Serena took control of the opening set against Azarenka by breaking her Belarusian counterpart for a 4-2 lead. The American then held and broke again, with a set-ending forehand winner.
In the second set, the 19-year-old Azarenka recorded her first break of the day to assume a short-lived 3-2 lead, as she was unable to consolidate the break. Serena would break right back to level the stanza at 3-all.
Following a hold, Serena notched another big service break for a 5-3 advantage and then closed out the match by holding her big serve to advance. Serena set- up the only match point she would need with a forehand winner, and converted on it with another forehand winner that just caught the baseline.
A clean Serena committed a mere seven unforced errors, fired nine aces among her 26 winners and broke Azarenka four times, while the Belarusian settled for only one break en route to defeat.
Venus, seeking a third straight and sixth overall Wimbledon title, cruised to a lopsided 6-1, 6-2 triumph over 11th-seeded Pole Agnieszka Radwanska in a brisk 68-minute affair. The seven-time Grand Slam champ has yet to drop a set in her five matches at this fortnight and has won 33 straight sets here, dating back to 2007.
There was not much drama for Venus, who won the first six points on the way to a 5-0 lead in the first set. The 20-year-old Radwanska finally held serve in the sixth game, but Williams quickly put it away in the next game with an ace on set point.
The total domination in a 27-minute first set included four aces for Venus and 14 total winners. Radwanska had just three winners and won only two points against Venus' potent serve.
That quickly changed early in the second set, as Radwanska won eight of the first nine points to open a quick 2-0 lead. Venus, who double-faulted to give Radwanska a break in the second game, broke right back in the third and held serve to level the set.
Venus broke serve again for a 3-2 lead, winning a marathon fifth game with a brilliant point at the net, and Radwanska never recovered. The American finished the match with a perfectly-placed forehand winner.
The 29-year-old Venus is now 67-9 all-time on grass.
"Do I feel invincible?" Venus said. "I'd like to say yes, but I really do work at it."
The mighty Williams sisters have combined for seven of the last nine Wimbledon titles, with Venus capturing five and Serena two. The two met last year in the championship match, a 7-5, 6-4 victory for Venus. Both of Serena's titles at the All England Club came in back-to-back finals against her sister in 2002 and 2003.
Venus is 5-2 in seven Wimbledon finals, while Serena is 2-2.
The two-time major runner-up and reigning Olympic gold medalist Dementieva throttled Italian veteran Francesca Schiavone 6-2, 6-2 on Court 1 on Day 8. The weak-serving Russian moved on in 66 minutes, despite piling up nine double faults. Dementieva did, however, record five service breaks in nine tries, while being broken only once by the 29-year-old Schiavone.
The 27-year-old Dementieva will play in her second career Wimbledon semifinal, with both coming over the last two years. The Russian lost to Venus in last year's final four here.
On Thursday, Safina and Venus will meet for a fourth time, with the American leading the all-time series 2-1. The Russian beat Venus in Rome earlier this season.
In the other semi, Serena and Dementieva will square off for a fifth time, with the Russian holding a 3-1 lead in their lifetime set. The American bested the Russian in this year's Aussie Open semis.